Latest Upgrading (2016.09.21 Thanks to 
Corey Harding
):
Overview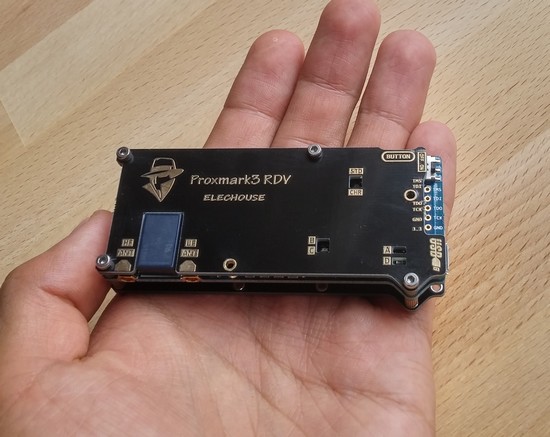 Watch this video Mifare Hack
ELECHOUSE Proxmark3 V2 is upgraded from ELECHOUSE Proxmark3 V1. You could know more from the V1 page.
What is improved on V2:
Improvement
More information
Improved antennas
LF antenna: 35.23 V @ 125.00 kHz
LF antenna: 27.64 V @ 134.00 kHz
LF optimal: 35.39 V @ 127.66 kHz
HF antenna: 24.08 V @ 13.56 MHz
512KB of dual bank flash memory
AT91SAM7S512 instead of AT91SAM7S256 on V1
Add power indicator LED
Enhanced antenna wires
Improved shell
Install the antenna on the shell
Supporting tags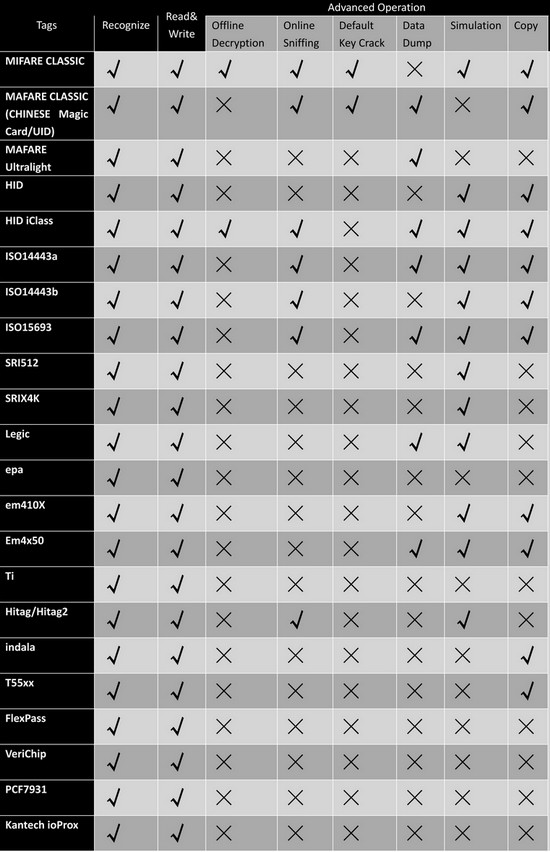 Note: the tale above doesn't include all tags it supports. To learn all the tags in the market (it is impossible for us to test all), click here to download.
Reference
1. Basic document
2. Video instruction
3. Official wiki
The Proxmark has proven itself to be an invaluable tool within the research community. Here are some examples of how the Proxmark has been used to perform research:
The Proxmark also makes a great educational tool. The entire platform (including hardware and software) is open source and can be readily analyzed and inspected. The Proxmark includes many of the major components found in a general purpose SDR but is simpler and therefore easier to understand. Faculty members should contact us about educational discounts if interested in incorporating the Proxmark into a course of study.
WARNING: The Proxmark3 is a research and development tool. It has not been evaluated for compliance with regulations governing the transmission and reception of radio signals. You are responsible for using this product in compliance with your local laws.
Product List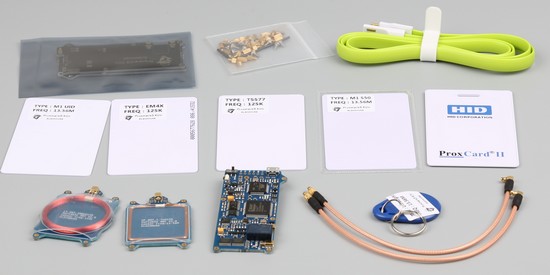 Protection cases assembled.
| | | |
| --- | --- | --- |
| Items | Qty. | Note |
| Proxmark 3 main board | 1 | |
| LF antenna | 1 | |
| HF antenna | 1 | |
| MMCX antenna cables | 2 | |
| Micro-USB cable | 1 | Connecting Proxmark to PC |
| Mifare 1 S50 white PVC card | 1 | 13.56Mhz |
| Mifare Ultralight white PVC card | 1 | 13.56Mhz |
| Mifare UID white PVC card (Chinese Magic Card) | 1 | 13.56Mhz |
| HID tag | 1 | 125Khz |
| T5577 tag | 1 | 125Khz |
| EM4X tag | 1 | 125Khz |
| Proxmark PCB protection shell | 1 | 2 boards |
| Copper pillar and screws package | 1 | To install the protection cases |